Theatre | Education | Youth
Innovative life-wide learning through a STREAM approach
Flow-STREAM Learning for Schools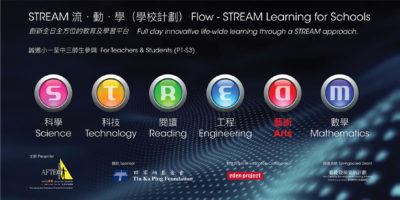 The Absolutely Fabulous Theatre Connection (AFTEC) presents the Living Campus 2019.
Sponsored by the Tin Ka Ping Foundation and supported by the Eden Project,
STREAM provides opportunities to teachers and students from P1 to S3 to take part in a multitude of cross-disciplinary, interactive and unique events in the Shalowan Living Campus.
Student Creative Activity WorkBook will be distributed to the participating teachers and students which consists of learning materials for use in the village and off-site learning materials to be used for continuity back at school. Catering to the all-around learning needs from school subject, culture and life knowledge, the Student Creative Activity Workbook will be divided into curriculum suitable for Key Stage 1 to 3.
Teachers will be guided through Workshops for teachers' Continuing Professional Development to enhance student learning across the curriculum with life-wide learning and field trips. STREAM encourages the exchange of teaching experience and more importantly, foster a non-school education support network to promote future partnerships between Hong Kong and overseas educational institutions.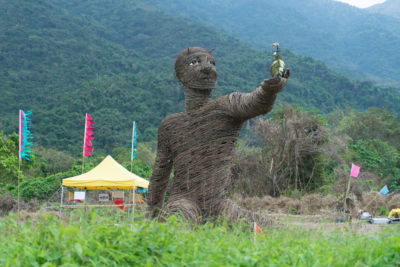 (The landmark sculpture created by UK artists Sue Hill and Pete Hill in FLIGHT last year)
Teachers and students who have joined the STREAM will participate in a one-day programme at FLOW during November. FLOW is free and open to the public on two weekends with exciting sights, sounds, shows and Learning & Participation indoors & outdoors in Shalowan Village. With the collaboration of the artists and scientists worldwide, this will be a once-in-a-lifetime outdoor adventure for teachers and students to celebrate the water theme through the arts…theatre, dance, music, installations & more. Details of FLOW will be announced later.
Application Details for Flow-Stream Learning for Schools
Venue: Shalowan Village, Lantau
Date: 1 & 8 November 2019 (Friday)
Enrolment deadline: 19 July 2019 (Friday)*
*Limited spaces, first-come-first-served
More details at www.aftec.hk
For media enquiry, please contact Christina Cheng, Head of Marketing & Publicity (25201716 / 91932114 | [email protected]).
About FLOW
FLOW is a cross-disciplinary outdoor arts & education event against the natural backdrop of Shalowan Village. Spectacular programmes include visual arts installations with inspiring themes, performing arts with music creation & interactive theatre performance; arts education with storytelling, workshops, adventure trails & village tours. In Flow, the audience can witness the marvellous journey of General Odysseus in the famous ancient Greek myth; enjoy music composition based on water flow; artistic, iconic sculptures created with the theme of water, using natural & recycled materials, and with reference to the mythical, historical, rural or urban context. The programme:
1. Interactive Theatre: The Odyssey
2. Music: Flowing Water
3. Installations
Dragon (Myth/History)
The Tube (Rural)
Plastics Ocean (Urban)
4. Story Telling/Adventure
Pinky the Dolphin
The Adventures of Bluey
The Imagination Playground
About Eden Project (International Education Collaboration)
The Eden Project is an educational charity in Cornwall, UK, with a mission to connect people with the living world and each other, leading to a better future for all. Eden welcomes over 50,000 school visitors each year. Expertise in the Eden Project is in developing out-of-school learning experiences which meet the needs of teachers and the curriculum whilst also creating opportunities for students to develop the skills to work collaboratively and creatively towards a better future.
About AFTEC
The Absolutely Fabulous Theatre Connection (AFTEC) is a bilingual Learning Theatre™ and non-profit arts organisation dedicated to nurturing the next generation of youth. We believe in the power of the arts to inspire, motivate and transform, and use an integrated arts-in-education approach to enhance education and encourage learning. Established in 2008 as a registered charity, we have reached over 180,383 audience members and participants through our diverse programmes to date, and have been the Venue Partner of the Sai Wan Ho Civic Centre under the LCSD Venue Partnership Scheme since 2009.
AFTEC was selected as a top 10 high impact NGO in the PwC Community Mentoring Programme on social impact assessment in 2015, recipient of HK Arts Development Council's Award for Arts Education 2014 & 2017, and is a two-time recipient of the Springboard Grant under the Arts Capacity Development Funding Scheme of the Government of the Hong Kong Special Administrative Region. AFTEC pioneered Relaxed Theatre & the performing arts module of Medical Humanities developing STEAM as a teaching & learning approach.