Creativity & Transdisciplinarity
In collaboration with HKU Common Core, this programme provides undergraduates from a wide range of academic disciplines the opportunity to explore creativity. 
Modelled after AFTEC's "7 Tools and Skills", students partook in four facilitator-led sessions: Imagine and Interpret, Observe, Feel, and Listen. The sessions encompassed filmmaking, costume design, movement and sound art and were taught by professionals and practitioners from the creative arts industries.
Following a rigorous series of facilitator-led sessions, the cohort was also led through a feedback and review session in which the students were able to develop their ideas into multimedia projects in response to the sessions and in conversation with their own academic disciplines. Weeks of creative expedition culminate in the final presentation.
My project tackles the idea of the self, and the various inconsistencies we experience in ourselves, our personalities, and why. 
I never really thought I could explain a psychological concept through the means of clothes before, but I managed to do that and it made me realise that even psychology is creative with the way it tries to understand people.
Sanjana Bharti

HKU BBA student, major in Marketing and Psychology



Where does the sound lead you?
People see with their eyes and hear with their ears. In this video, I did the opposite, to see a sound that is surrounding us and imagine sceneries. I hope the audience could see what is not on the screen and hear what is in our imagination.
Moreover, the displacement of sound and visual representation makes us understand that what we see may not be what is happening. I want the audience to have another perspective on hearing and how it tricks our minds into seeing what is not presented.
Praising others' innovative ideas is easy for me but participating in being creative is a whole new world. After this programme, I discovered how creativity is so near to me. I was glad to take on the challenge of creating things myself for the very first time.
Grey Kwong
HKU BA student, major in Comparative Literature and Global Creative Industries
My project is an animation showing how a plumeria flower turns into a girl. I tried to find their similarity and design the costume of the girl.
As my discipline is landscape design, it requires many visualisations of my findings, like making diagrams. After the project, I found that I can integrate more creative formats of visualisation. For example, I can use short videos and sound diagrams to show the environment and also use drawings to record the movement of animals on the site.
Wu Fan, Lucy
HKU BA (Landscape Studies) student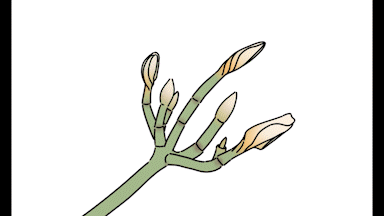 Co-organised by Common Core, The University of Hong Kong